This week we are asking "was your mother right?" and how important is it to "stand up straight"?
I have included four diagrams that show common postures that we as humans present.
What is of interest is how our muscle patterns differ with each of these
postures.
When we stand up straight and we draw a straight line from our ear to our ankle we can see our body working together in equal balance to provide us stability, strength and movement (Diagram 1).
Deviation from this posture changes our muscle patterns. We rely on smaller muscle groups, hang off ligaments, tendons and our body becomes weak and tight.
When poor posture becomes normal we see a deterioration in performance and increased risk of injury.
I often hear "if I go to the gym will that help?" If you have a poor pattern and you go to the gym all you will do is strengthen a poor pattern.
We need to train our bodies to function in the way they were designed to be worked.
So hopefully you can see that the answer is "yes, your mother was right – stand up straight."
Our Posture – Move well, stay well Program will help you to engage your muscles in a balanced way through functional movement and strengthening.
Check your posture below
Flat Back
Flat back, over active hamstrings, weak hip and knee control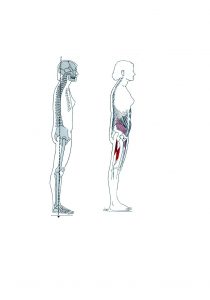 Sway Back
Sway back, strong tight hamstrings, poor hip position
Rounded Back
Rounded back, over active neck and quadriceps
Ideal Posture - Stand Up Straight
Ideal posture, balanced muscle system